17 Dec 2017
by Mike Gleason, Money Metals: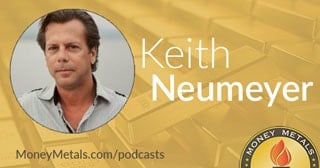 Coming up we'll hear from Keith Neumeyer, founder and CEO of First Majestic Silver and outspoken voice on the manipulation that's occurring in the futures market for silver. Keith weighs on the Deutsche Bank market rigging case, gives us his outlook for the metals under a Trump presidency and explains how silver's gains in the future may end making the recent advance in zinc look like child's play. I can promise that you will NOT want to miss an incredible interview with Keith Neumeyer, coming up after this week's market update.
Precious metals markets continue to show strength in 2017 as we finish out the second trading week of the year. So far in 2017, gold, silver, platinum, and palladium are all on the upswing. So is copper, uranium, rhodium, and most other hard assets.
Click HERE to Listen