by Steve St. Angelo, SRSRocco Report: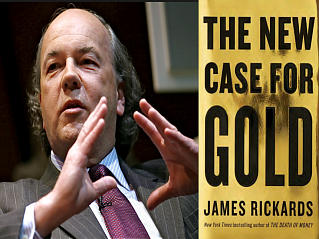 While Jim Rickards explains many reasons why it is important to own gold, he leaves out the most important factor. Jim has become one of the more prominent names in the precious metals community due to his strong opinion on owning gold even though he worked on Wall Street (the anti-gold financial establishment) for 35 years.
Jim Rickards has written several best-selling books such as, Currency Wars, The Death Of Money and more recently, The New Case For Gold. Rickards is a big believer in owning gold to protect against the collapse of the highly leveraged derivatives based financial industry.
Rickards has gone on record in stating that his technical target for the price of gold posted in the article, Gold "Chart of the Decade" – Math Suggests $10,000 Per Ounce Says Rickards:
Read more at original source: