23 June 2018
from Gold Seek:
Russia adds another 600,000 oz to it's gold reserves in May

Holdings of U.S. government debt slashed in half to $48.7 billion in April

'Keeping money safe' from U.S. and Trump – Danske Bank

Trump increasing the national debt by another 6% to $21.1 trillion in less than 18 months

Asian nations accumulating gold as shield against dollar devaluation and trade wars

Russia dumps Treasuries for gold and in a Trade war China and others may do the same …

Source: Goldchartsrus.com
Bloomberg, Reuters and other media are now reporting that Russia dumped Treasuries in a major way in April and today comes news that Russia bought another 600,000 ounces of to add to its already sizeable and growing gold reserves.
This is something we have written about since 2004 and have spoken about on Bloomberg TV, CNBC etc for many years.
It is not just Russia that is diversifying into gold in recent months and years. India, Turkey, Mexico, Iran, Kyrgyzstan, Kazakhstan, Belarus, Uzbekistan, Tajikistan, Mongolia and of course China have been increasing their gold reserves.
Trump's erratic and risky economic and foreign policies pose a risk to the dollar as the reserve currency of the world.
The deterioration in the US fiscal and financial position has been happening slowly for many years but accelerated under Bush II and Obama. Trump inherited a heavily indebted U.S. with nominal debt just under $20 trillion (19.9T). In just 17 months this has increased by another 6% to $21.16 trillion. There are unfunded liabilities of around $100 trillion…
We are moving to a multi polar world which will see China become a more dominant player and Trump is exacerbating this trend.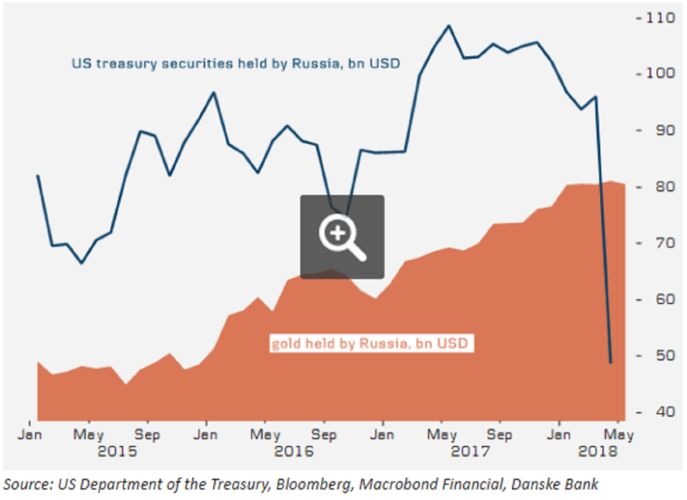 Source: Bloomberg
The risk for the US and global economy is that if trade wars intensify with China, Russia and other nations then this trend may deepen. This would likely lead to a lower dollar, higher interest rates and much higher inflation.
It is creating a very bullish scenario for gold and the present bout of weakness presents a buying opportunity for value minded investors to diversify and accumulate gold while it remains weak.
The end of the dollar reserve standard and the petrodollar and the flow of gold from the West to East and what this what means is something we covered in the latest Goldnomics podcast:
Read more at original source: