by Stefan Gleason, Silver Seek:
The silver bull is back. After five long, frustrating years of price smashes followed by one failed rally attempt after another, silver prices have decisively broken out to the upside.
The question facing precious metals investors now is: How sustainable is the uptrend?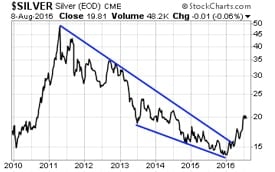 A major breakout doesn't necessarily portend any particular duration or price objective to follow. The silver market is notorious for producing price swings that befuddle forecasters. Nevertheless, the birth of a new cyclical bull market suggests the potential for a multi-year up move to come. Before it's over, we are likely to see new all-time highs.
The good news for those not yet invested in silver is that even after the impressive rally so far in 2016, prices remain relatively depressed. Silver still trades at less than half its former high mark.
In order for silver to match its all-time high of around $49.50/oz, prices would have to advance another 130% from recent levels. A return on investment of more than double is a pretty good proposition. Such a return would likely best any gains from stocks, bonds, or other conventional financial assets.
Read more at original source: