by Steve St. Angelo, SRSRocco Report:
The true value of gold is much higher than the spot price quoted in the market. This is due to several factors, but the most important reason is misunderstood by just about every economist and monetary scientist in the world today. Those who are able to understand the information in this article, will finally be able see the value of gold (money) in a totally different way.
It has taken me years of research and reflection to understand GOLD's TRUE VALUE. Unfortunately, the majority of economists and precious metal analysts look at gold in a very specialized way. While precious metals analysts see gold as real money versus the Keynesian view of a Fiat Dollar System, both fail to grasp gold's true value.
Gold is more than a precious metal based on supply and demand. Furthermore, the Austrian School of Economics looks at gold as a foundation of money in the procurement of goods and services. However, gold's real value comes from energy in all forms and in all stages in its production
I am going to repeat it one more time…. gold's real values comes from ENERGY in ALL FORMS and IN ALL STAGES in its production.
I have been saying this in interviews and writing about it for years, but I still believe a lot of people just don't get it. So, now I am going to break it down in a simple chronological way.
The Foundation Of Gold Money: ENERGY = GOLD = MONEY
To understand this principle, I have decided to use one of the largest gold producers in the world as an example, Newmont Mining.
According to Newmont's 2013 All-In-Sustaining-Cost for producing gold, they provided the following chart: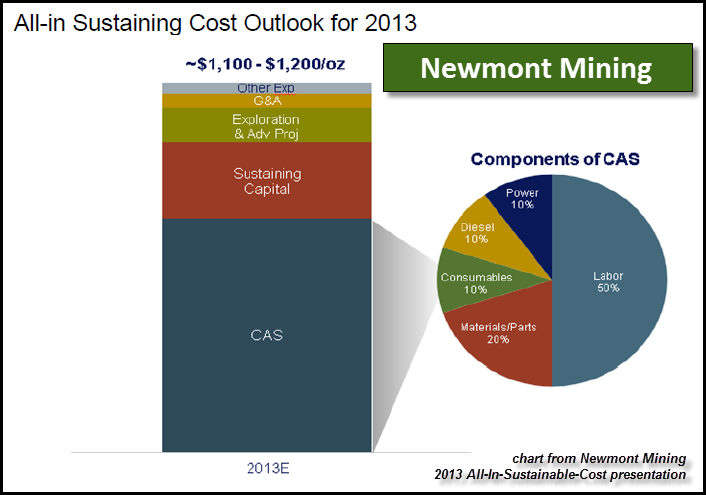 Read more at original source: