1 Jan 2017
by MY Bullion Trade:
The new 2017 Gold and Silver Maple Leaf Coins have everything serious precious metals investors are looking for: they have the lowest premiums over spot for a sovereign coin, are minted in large numbers, ready to ship now, and offer unmatched security.
Each 2017 Maple Leaf has 3 cutting-edge enhancements to prevent counterfeiting and protect your investment. No other bullion coin in the world has this level of sophistication.
When you invest in 2017 Maple Leafs, you'll have peace of mind knowing you can verify the authenticity of every single coin with these security features:
Security Feature #1: Radial lines emanating from the center of the coin are machined within microns to ensure consistent and precise coin striking. The specific width and pitch of the lines create a light diffracting pattern which makes these coins unique among other bullion products.
Security Feature #2: A micro-engraved security mark in the form of a textured maple leaf on the reverse side of the coin. In the center of this mark, the numeral "17" is visible under magnification denoting the coin's year of issue.
Security Feature #3: Bullion DNA anti-counterfeiting technology, exclusive to the Royal Canadian Mint. Images of every single coin are captured as they are minted, encrypted, and stored in an ultra-secure database. This allows authorized dealers, to validate customers' Gold and Silver Maple Leaf coins in just seconds.
The Royal Canadian Mint considers the 2017 Maple Leafs to be the world's most secure bullion coins, yet they remain competitively priced to all comparable sovereign-minted coins. Whether you choose gold or silver, each would make an excellent addition to your portfolio.

1 oz Canadian Gold Maple Leaf Coin (2017)
25 million troy ounces sold since 1979
World's first 99.99% pure gold bullion coin
3 security features for peace of mind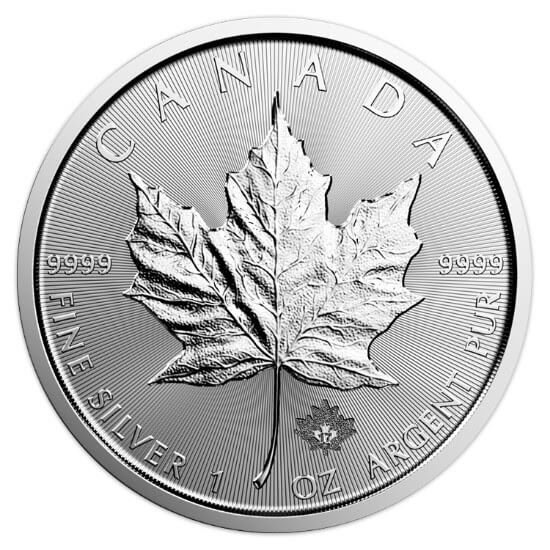 1 oz Canadian Silver Maple Leaf Coin (2017)
Highest face value on the market for any comparable silver bullion coin.
Affordable investment for first-timers and veterans alike
3 security features for peace of mind